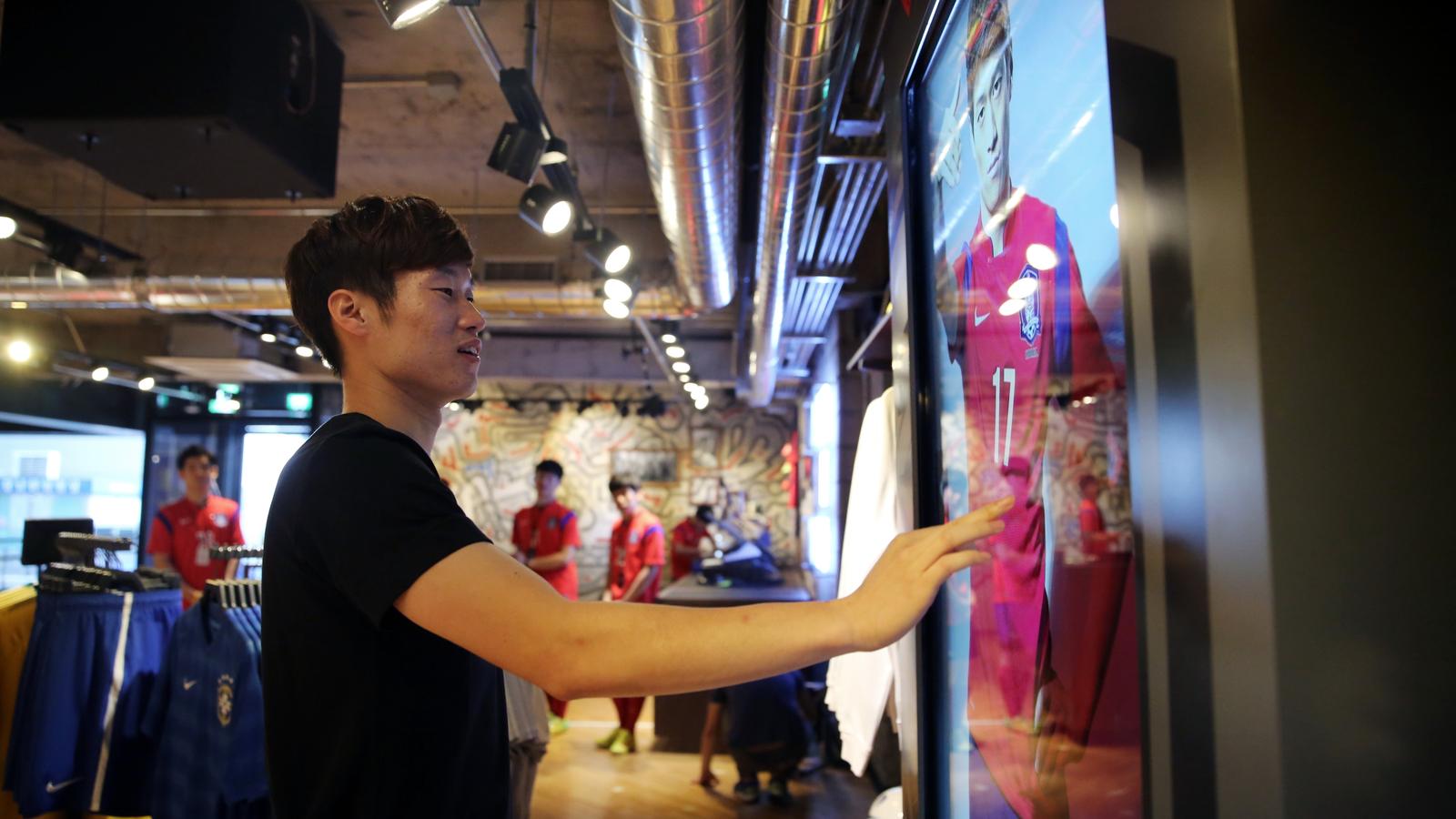 Today, former Korea National Team legend Ji-Sung Park joined Nike to open a new retail store in the heart of downtown Seoul. The 19,375-square-foot retail experience, located in the bustling Gangnam shopping district, becomes the largest sport brand store in Korea. Consumers will find the best that Nike has to offer, including Running, Football and Sportswear products. The fullest expression of women's training will be available, along with special services and programming such as weekly Nike+ Training Club sessions.
"We are extremely excited to launch a multi-category brand experience store that will resonate with all athletes, especially with female consumers. Nike Gangnam is designed as both a retail experience and a destination to enable and inspire our athletes," said Peter Kwak, VP/GM, Nike Korea.
The design of Nike Gangnam embraces local connections while staying true to Nike's rich heritage. The two-story façade sports an awning with a 26-degree angle, the same geometry that's seen on Nike's classic outerwear, the Nike Windrunner. Inside, the store has three levels and a 24-foot chrome chandelier. This stunning centerpiece, made from Nike running, basketball and football products, pays homage to Nike's innovations.
The first floor of the store features a full breadth of Nike's Running and Women's Training products. The second level showcases the latest Nike football innovations and includes a Young Athletes section. In keeping with Nike's commitment to sustainability, the flooring on the second story is made of wood recycled from Korea University's basketball court, which was being refurbished.
The basement level presents Basketball, Jordan Brand, Nike Sportswear and Nike SB products.
Nike Gangnam also features a mural by Korean artist Yoon Hyup, who reinterpreted the Mercurial and Air Jordan footwear series, taking inspiration from Korean footballers including Chung-Yong Lee and Sung Yueng Ki. Alongside the murals, LED interactive panel displays provide consumers with additional product information.
To mark the opening of Nike Gangnam, Nike Korea kicked off a week of festivities today with athletes, musicians and celebrities on hand to celebrate the lifestyle of sport.
Former Korea National Soccer Team and Manchester United legend Ji-Sung Park made his first public appearance since retirement, hosting an inspiring conversation with young athletes.
"I've had a long and illustrious relationship with Nike. And while I'm retiring from the pitch, it's an honor to be able to inspire young footballers and enable them to play their best," said footballer Ji-Sung Park. 
Opening day events included visits from athletes such as Chan-Ho Park, the first-ever Korean Major League Baseball player; Sang-Hwa Lee, a two-time Gold medalist and world recorder holder in long track speed skating; and Korean basketball legend Kyung-Eun Moon.
Korean artists NOVO, GFX and Gaeko presented their respective Nike Sportswear 'Victory Collection' tees, rooting for the Korean National Team's victory in Brasil. A performance by Gaeko closed out the grand opening festivities with a performance.
Nike Gangnam is located at 446-1, Gangnam-daero, Yeoksam-dong, Gangnam-gu, Seoul. For more information, follow Nike Gangnam at nike.com.