Elite High School Basketball Players Take Flight at Jordan Brand Classic
April 19, 2014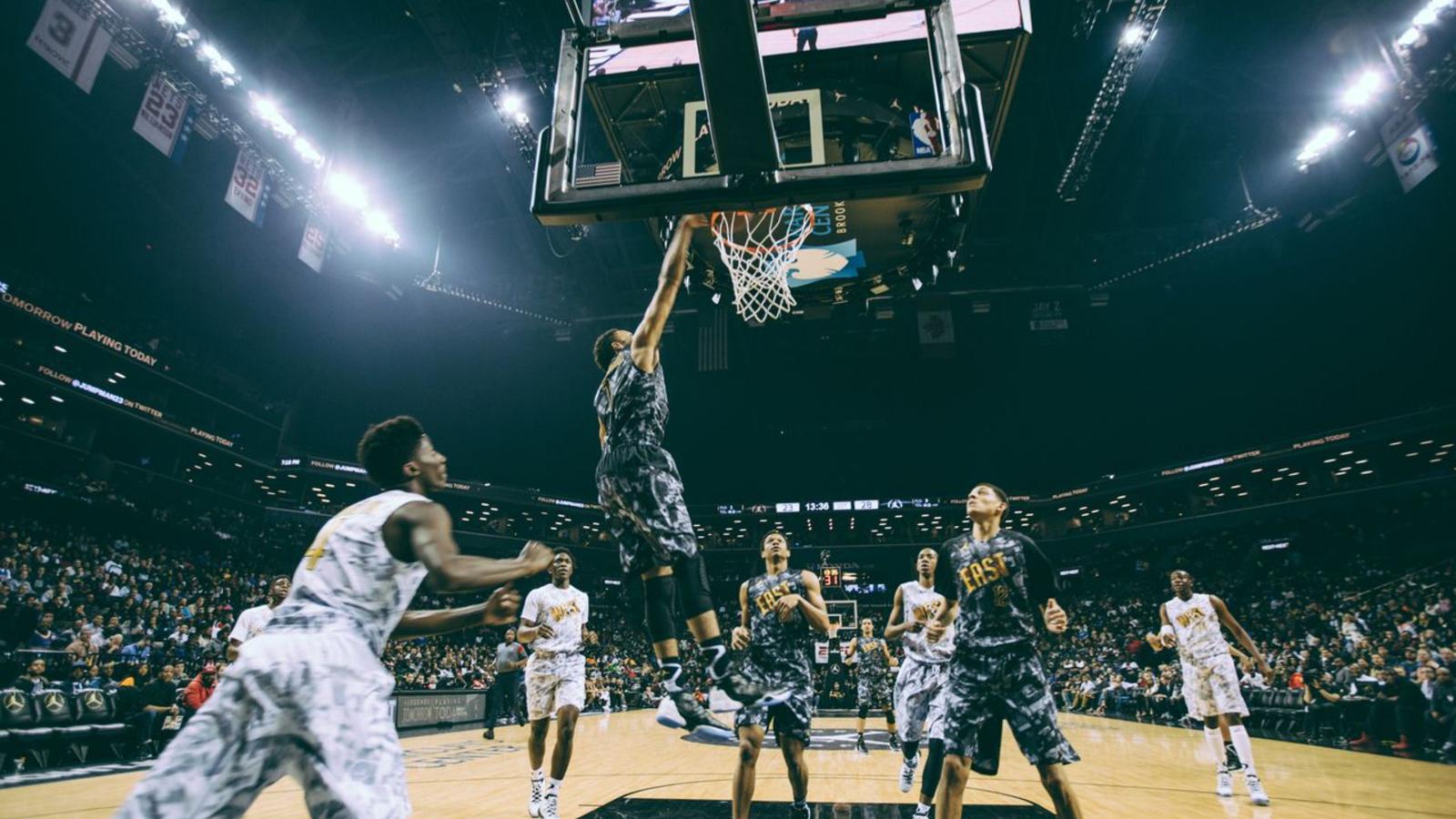 Friday night's Jordan Brand Classic National Game featured plenty of offensive fireworks, and some of the nation's best rising basketball talent as the East Team won 158-147.
Following a fan vote on Twitter, the East Team's Jahlil Okafor (Whitney Young, IL) earned co-Most Valuable Player honors, finishing with 29 points and nine rebounds at the 13th annual Jordan Brand Classic. Sharing the co-MVP honors was the West Team's Cliff Alexander (Curie, IL) who had 23 points and eight rebounds.
Immediately before the National Game, New York City's best local talent took the game to overtime, with a final score of White 102 – Black 99. In the first game of the day, elite talent from around the globe played a tough, close game, with the White Team winning 74-71.
Fans who were in their seats just before tip-off were treated to a one of a kind experience, with a digital projection demonstration on the court. Like previous years, the game drew fans and celebrities alike, including Michael Jordan, Carmelo Anthony, Amar'e Stoudemire and Fabolous. Lee England, Jr. performed during the National Game halftime show, while Macklemore and Ryan Lewis capped the night off with a high-energy performance.
A FULL WEEK OF NEW EXPERIENCES
Each year, the Jordan Brand works to make the JBC game a memorable, and meaningful experience for the players. In addition to practicing as a team in the days leading up to the Friday night game, the week includess a variety of activities the players. 
The week began Tuesday night with a cultural experience hosted by rapper and accomplished speaker Bun B, who presented "Sneakerology," a deep dive into the culture and significance of the sneaker community.
Following practice Wednesday, the National Team headed to BET's 106 and Park studio for a behind the scenes look at the show. They participated in the filming, and met host Lil Bow Wow and comedian Tracy Morgan. Later that evening, the athletes headed into the recording studio at the hotel's player's lounge where they were greeted by Def Jam rapper Jadakiss and Brooklyn's own rapper Skyzoo.
Thursday featured an life skills course hosted by Kevin Carter, Player Development Specialist. The National Team then sat front row at the Air Jordan XX9 unveil at Terminal 23. Following the unveil, the athletes were treated to a presentation about fashion on-and-off the court by celebrity stylist Khalia Webb.  
The athletes capped off Thursday night on board the USS Intrepid at Pier 86 for a special awards dinner. Television and radio personality Big Tigger hosted the dinner, while Jordan Brand Vice President Howard "H" White spoke to the athletes about recognizing greatness within themselves and the importance of seizing each day.